Why you need a Speedy laser engraver and cutter.
Whether you're just starting your business or increasing your production capacity, Speedy is the perfect choice. As the fastest laser engraving machine on the market, Speedy helps you make your daily work more profitable. First-class components, reliable  mechanical engineering guarantee you minimum maintenance and maximum runtime. Ruby®, the most intelligent laser software, ensures a smooth workflow from the idea to the finished product. Speedy laser engravers – profitability by design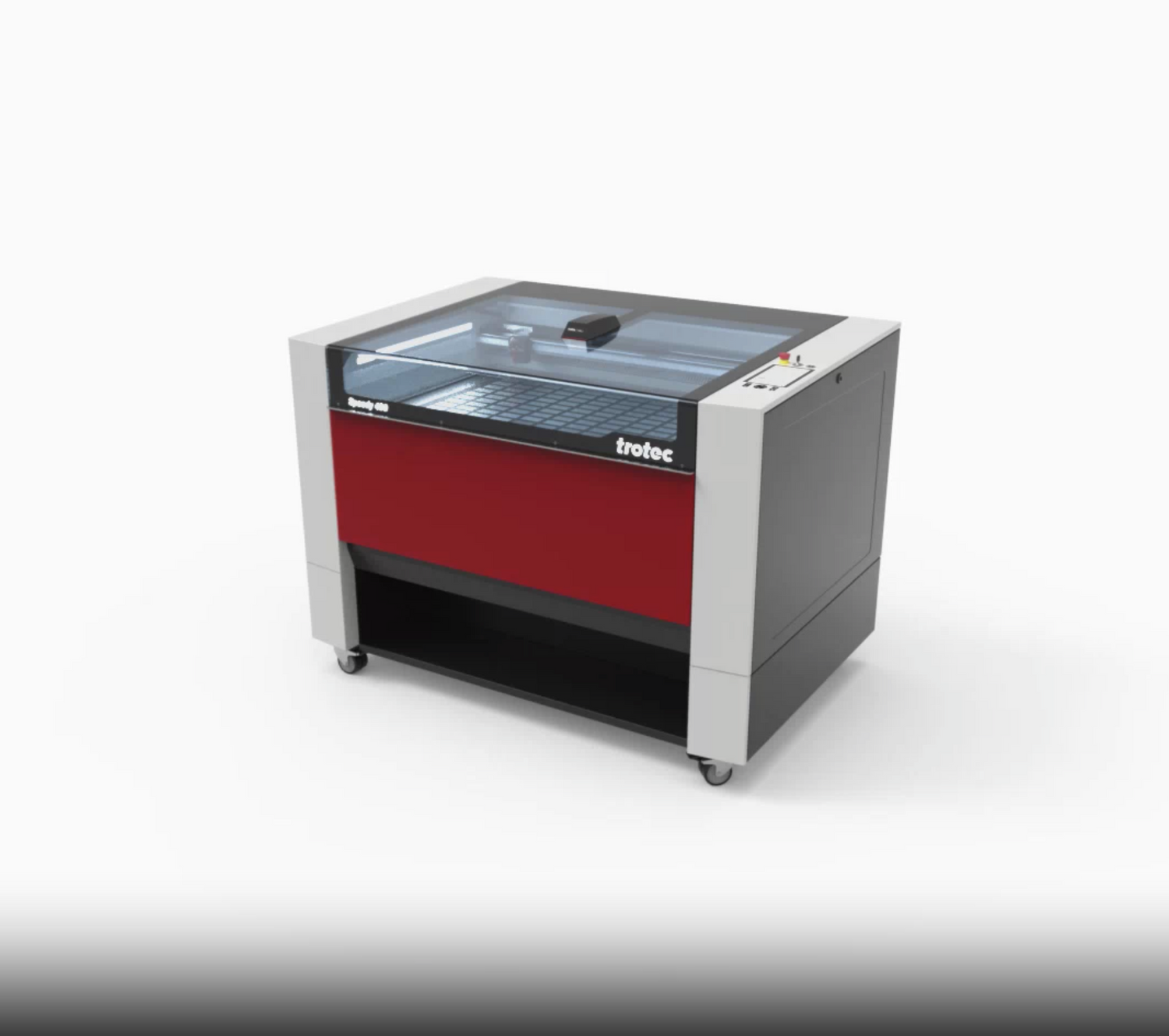 Increase your productivity with the Speedy laser engraver.
Time is money – the time per laser job is crucial for the success of your business. The engraving speed of 4.3 m/s and 5 g, the OptiMotionTM motion control and a laser power of up to 120 watts make the Speedy not only the fastest but also the most productive laser engraver and cutter on the market.
More features of our laser engravers and cutters.
User-friendly focusing

Focus easily and quickly at the touch of a button using the SonarTechnology™ ultrasonic sensor.

Minimal cleaningSensitive

components (lenses, linear guides) are protected from dust and dirt by our InPack Technology™ and our integrated gas kit

Efficient exhaust system

Less contamination of the workpieces, less flame formation and a long service life of the laser machine with the right exhaust system – Trotec Atmos.

Sophisticated technology

Reliable operation, longest service life and lowest maintenance costs thanks to reliable Austrian mechanical engineering.

Always productive

Always productiveTroCare is a customized service package for maximum productivity reliability and calculable operating costs.

The right processing table

High-quality products and fewer defective products with the right table for every application.

Producing Print&Cut jobs

Precise cutting of printed applications thanks to Trotec Vision.

More space in the workshop

Optimal ratio between the machine size and the work area means more flexibility and less space is required.

Safe according to CE

Our machines meet all official requirements and can therefore be put into operation safely.

A coordinated solution

Combine interactions for service, laser machine, exhaust system and material – 1 contact person for everything.

Vision Design&Position

Camera-assisted job positioning, editing and designing directly on the workpiece in Ruby®.
Technical data of the Speedy series.
Material compatibility with Speedy series.
What does it take to be successful with a laser engraver and cutter?
We'll advise you free of charge.