Why you need an SP large-format laser cutting machine.
The SP series CO2 laser cutters are the comprehensive solution for cutting large-format materials. Whether for display and shop fitting, architectural model making, membrane keyboard production, print service providers, display making, finishing of signage or technical textiles and furniture manufacturing, our SP laser systems are engineered for 24/7 operation and let you work fast and reliably.
The laser standard in signage and display production.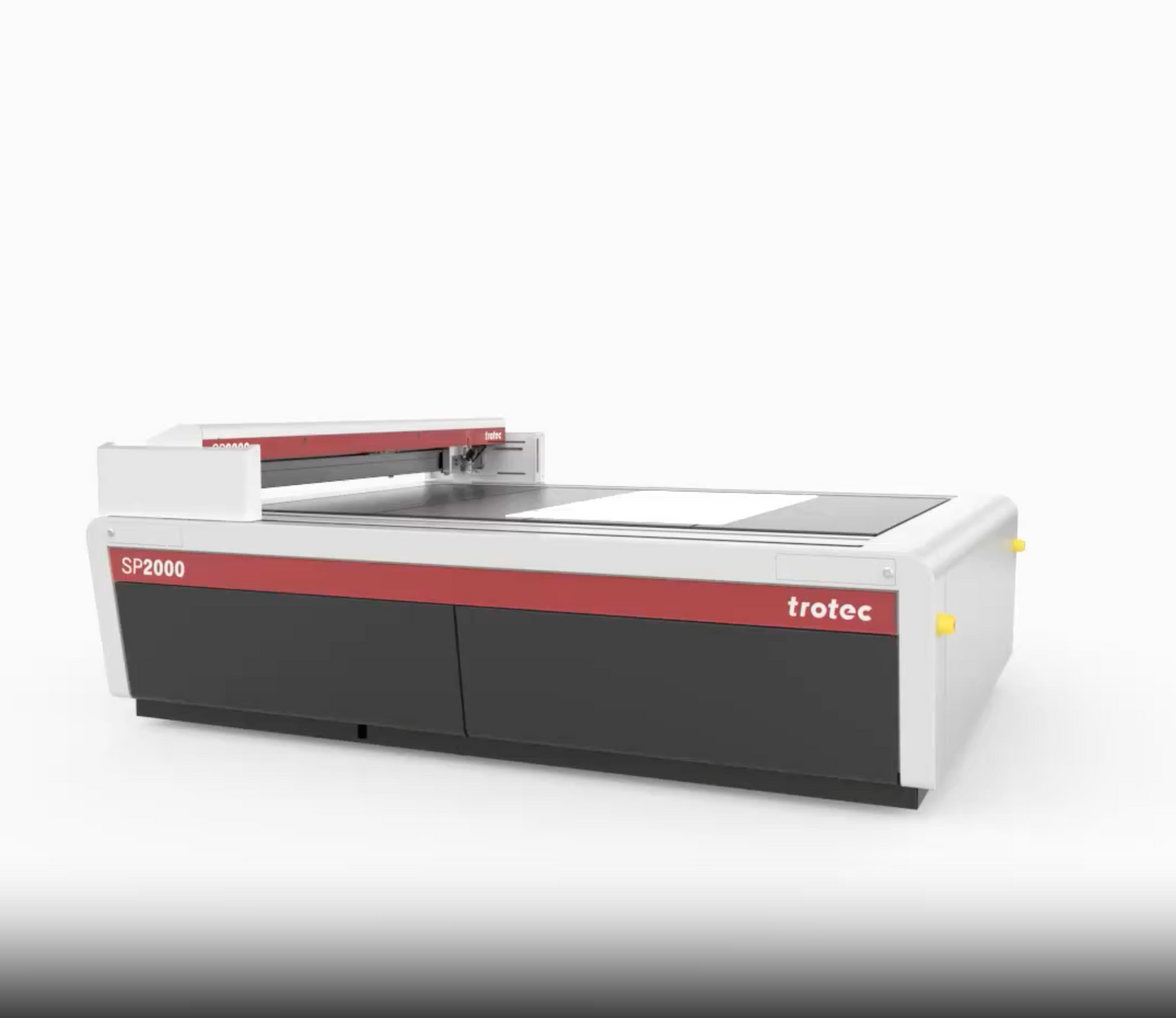 Combine maximum productivity and user-friendliness with an SP large-format laser cutting machine.
Trotec laser cutting machines are designed for the fast and precise processing of large-format materials. Features such as the four-sided access and the Tandem Assist, combined with the highest cutting speed, ensure maximum productivity. Use the entire work area, with no idle time. The laser cutting machine can be seamlessly integrated into your pre-press workflow thanks to RIP and CAD compatibility.
More features of the large-format laser cutting machines.
User-friendly focusing

Focus easily and quickly at the touch of a button using the SonarTechnology™ ultrasonic sensor.

Minimal cleaning

Sensitive components (lenses, linear guides) are protected from dust and dirt by our InPack Technology™ with integrated air flushing.

Efficient exhaust system

Less contamination of the workpieces, less flame formation and a long service life of the laser machine with the right exhaust system – Trotec Atmos.

Sophisticated technology

Reliable operation, longest service life and lowest maintenance costs thanks to reliable Austrian mechanical engineering.

Always productive

TroCare is a customized service package for maximum productivity reliability and calculable operating costs.

The right processing table

High-quality products and fewer defective products with the right table for every application.

Producing Print and Cut jobs

Precise cutting of printed applications thanks to Trotec Vision.

Durability meets cutting quality.

Experience consistent cutting of the finest structures thanks to water-cooled CeramiCore® technology.

Reliable cutting

Achieve the best contour accuracy with the highest productivity. The OptiMotion™ path control automatically adapts the cutting speed to your geometry.

Large-scale cutting and engraving

Engraving and cutting can be carried out in one laser job and operation.
Technical data of the SP series.
Material compatibility with SP series.
What does it take to be successful with large-format laser cutting machines?