Why you need an Atmos laser exhaust system for your laser machine.
This convenient exhaust system ensures the safe and clean operation of your laser system. It reliably removes dust and gases from the work area and filters out all odors that are created during the laser processing with its activated carbon filter. The Atmos exhaust system helps to deliver the best possible engraving and cutting quality.
With Atmos, Trotec sets standards in terms of user-friendliness, efficiency and low maintenance costs. The right exhaust system ensures a longer service life and protects the laser lenses.
Atmos exhaust systems – sustainably better.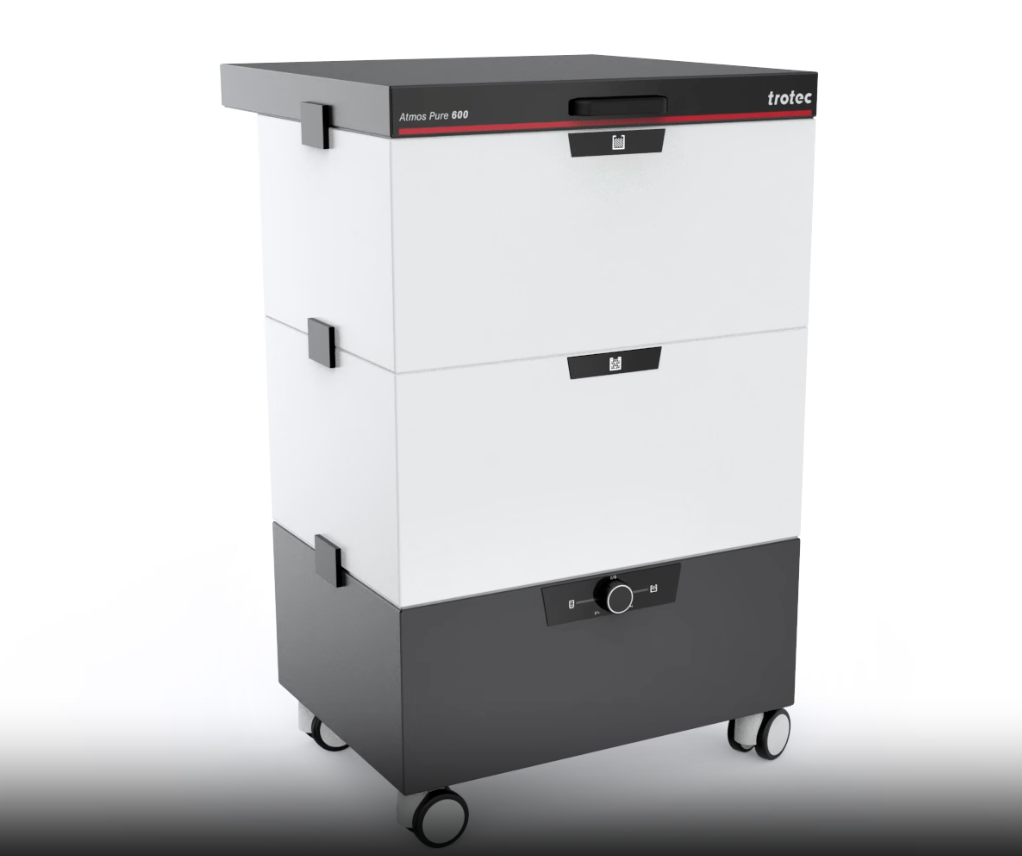 Achieve the best engraving quality thanks to high-quality lenses.
High-quality lenses and an excellent laser spot guarantee a perfect application result for your marking. Even the smallest details can be precisely marked. Functions such as polishing and deep engraving ensure legibility even on demanding materials.
More features of our exhaust systems
Energy saved.

The exhaust system runs exactly when the laser process needs it.

Filters easily replaced.

In just a few movements, you can replace the entire filter on your exhaust system thanks to the innovative design.

Real-time filter level indicator

Timely replacement of the filter for safe operation.

Large amounts of dust extracted.

Optionally, pre-separators can be installed to filter large amounts of dust.

Safely divert process air

All stand-alone machines in the Atmos series can, by default, be connected to an external exhaust system.

Optimized sound level.

Ensures the further reduction of operating noise and makes the Atmos exhaust systems even quieter.

Properly filtered.

Choice between F9 comfort box, HEPA filter and bag filter - the right filter for every application.

Sophisticated technology

Reliable operation, longest service life and lowest maintenance costs thanks to reliable Austrian mechanical engineering.

More space in the workshop

Optimal ratio between the machine size and the work area means more flexibility and less space is required.

Safe according to CE

Our machines meet all official requirements and can therefore be put into operation safely.
An overview of the Atmos laser exhaust systems.
Interested in more information about the Atmos exhaust systems?